ADVENTURES IN ART AND DESIGN
We are a team of arts producers looking for wild and ambitious projects to sink our fangs into. We manage, nurture and create immersive artistic experiences.
Alchemy
 We unify art, design, science and and a multitude of mediums to create beautiful, harmonious, curious complexity.
Idea Gestation
We conceptualise and flesh out ideas, holding space to fully articulate our creative vision.
Project Navigation
Solo or collaborative, our project management and creative timelines don't compromise on artistic vision.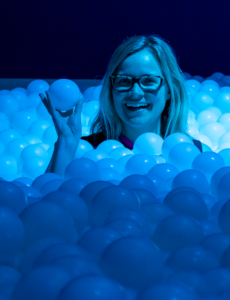 Lauren Amos
Creative Producer
Lauren Amos has a background in chemical engineering, specialising in the creative use of technology focused on human-centred design. With qualifications in psychology and art therapy, Lauren has designed workshops and courses aimed at personal and organisational growth and development. Together with her long history of solo arts and crafts projects, Lauren has turned her diverse skill set towards producing collaborative arts projects. For her first collaborative work, BitLit: Poetry Machine Corner, Lauren designed and built a machine learning robot that can recite poetry, which featured at the Perth Fringe World Festival 2019. Her second award-winning exhibition, GANify: Funhouse Mirror Machine, housed a number of machine learning stations that provided a variety of accessible and engaging sensory experiences. Featured at Perth Fringe World Festival 2020, Lauren brought together and managed a skilled technical team of over twenty volunteer participants to realise this latter artistic vision. GANify: Funhouse Mirror Machine won the Fringe World 2020 Visual Arts Award. Lauren divides her time consulting on innovation, strategy, productivity and design, working on her own arts and crafts projects, and conceiving of future collaborative works that deliver innovative creative experiences. In all her endeavours, Lauren seeks to encourage play, creativity, self-expression, lifelong learning, and themes that include sustainability and humans versus technology.
(Photo courtesy of Jean-Michel Maujean 2020)
Kim Balfour
Artistic Producer
Kim Balfour is a Perth based writer with a long history and previous career as a performing artist. After narrowly avoiding a life as a pastry chef, Kim trained at The Australian Ballet School as a teenager in Melbourne, and later worked with companies that include West Australian Ballet, Sydney Dance Company, Victorian State Opera, Opera Australia, and Bern Ballet. Kim also has experience behind the scenes, working for many years on theatre production crews and as a movement coordinator for West Australian Opera. After retiring from dance and returning to Perth, Kim completed an honours degree in Communications and was subsequently hired to write dance and theatre feature articles for The West Australian newspaper. On the back of her journalistic success, Kim moved to Sydney to work with Channel TEN News as a researcher and to manage a team of content producers. Looking for a change of pace, Kim turned her writing skills to grants and tenders. After coordinating a number of successful grant and state government tender submissions, Kim decided she wanted to return to the arts. In 2019, Kim teamed up with Creative Producer Lauren Amos to co-produce Lauren's Perth Fringe World Festival machine learning arts installation, BitLit: Poetry Machine Corner, and again in 2020 for Lauren's awarding winning machine learning arts exhibition, GANify: Funhouse Mirror Machine at Perth Fringe World Festival. Kim continues to work as a freelance writer, and is currently writing a book that explores gender identity, roles and expression in the performing arts.
GANify: FUNHOUSE MIRROR MACHINE, FRINGE WORLD 2020
 GANify: Funhouse Mirror Machine is a machine learning (ML) inspired carnival funhouse of mirrors. What will a machine learning carnival funhouse of mirrors reveal about you? (press release)
BITLIT: MACHINE POETRY CORNER, FRINGE WORLD 2019
 If you're curious and want to know more, send us a message.